Looking for the best pitbull collars.
We will give you our list of best-recommended pitbull collars for 2020 including some of the badass ones with their pros and cons. We would also suggest you customizable pitbull collars.
American bully aka pitbull is a strong and powerful companion dog. With their strength, you need the right collar to control them while training or walking along with them on a leash.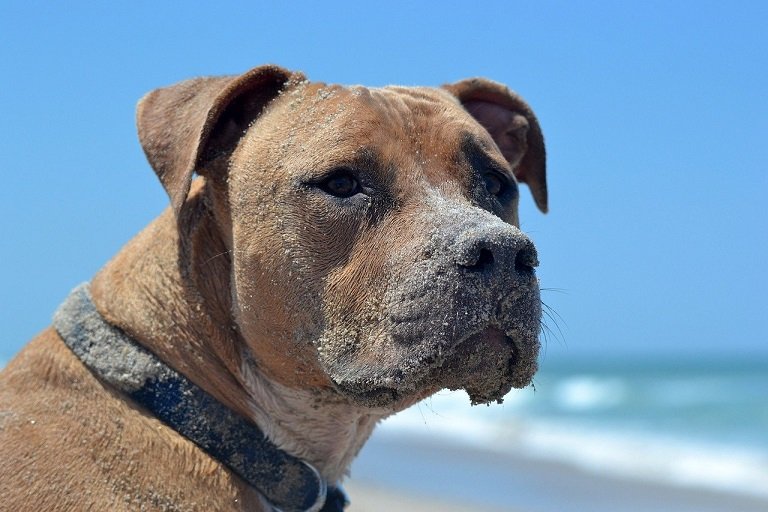 They can pull you if you haven't trained them well. Or they can still go after other dogs as they are aggressive to them. So you should choose the right Pitbull collars carefully that can withstand their strength.
Below is a quick list of Pitbull collars recommended by us.
Best Overall Pitbull collar
Best Badass Pitbull collar
Best customized Pitbull collar
Best budget Pick
Which material for pitbull dog collar is best?
We recommend Genuine Leather or Nylon as the material for Pitbull collars.
Plastic collars may look attractive but they can't withstand the strength of pitbull and are not durable. We do not recommend them for Pitbull collars.
Chain or Prong collars can hurt your dog and we will discuss later why we do not recommend chains.
Leather
Leather Pitbull collars are thick, strong, and look classic. A quality leather collar can last for years if properly cared for.
We would suggest to go for genuine thick leather (greater than 2 mm thickness) and not what is called bonded leather (which is very cheap and bad quality).
| Pros | Cons |
| --- | --- |
| Durable | Limited designs |
| Natural and non allergic to dogs | Expensive |
| Easy to clean | Can lose their color if kept wet for long time |
Nylon
This is the most popular material used for making Pitbull collars. Nylon can be used if made well with the right thickness to bear the strength of Pitbull.
| Pros | Cons |
| --- | --- |
| Loads of good designs | As it is synthetic, it can be allergic or itchy to dogs |
| Relatively less expensive | May become smelly over time |
| | May not be easy to clean |
| | Less durable |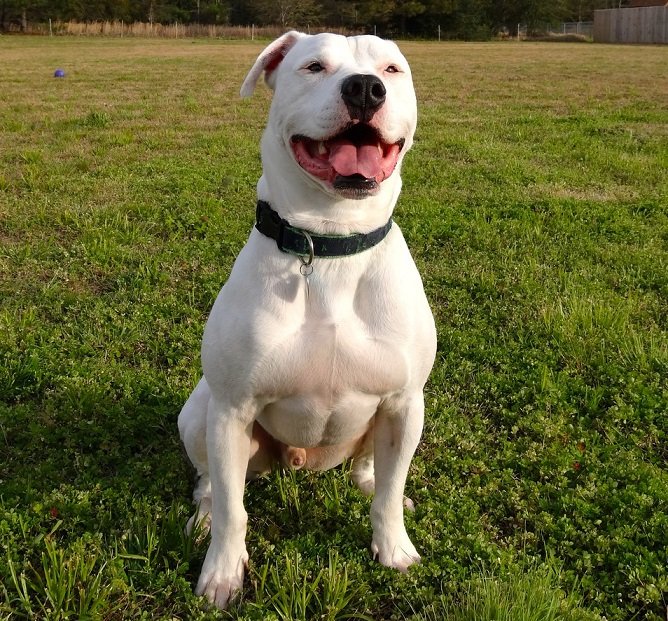 Detailed review of Pitbull collars
Let us now look at the Pitbull collars that we recommend in detail along with their pros and cons so you can make the right decision.
Soft Touch Collars Luxury Real Leather Padded Dog Collar
This soft-touch collar is padded and designed well. It is double layered and the inner layer is soft which is great for dogs. There have been great reviews about this product on amazon from many owners.
The most striking thing about these Pitbull collars is the confidence Soft Touch Collars have on their product. Check for the lifetime guarantee they offer at amazon for any failure due to material or workmanship.
| Pros | Cons |
| --- | --- |
| Best customer service and a lifetime guarantee | The simple and elegant collar which may not be attractive to few |
| Genius design with a hook for ID tags | |
| Good quality leather | |
| The buckle is secured by double stitching of the folded thick leather | |
| Many folds to choose for varying sizes. | |
Pitbull Collar Heavy Duty Nylon, Stainless Steel Hardware
Made by Bully's, these Pitbull collars are made to withstand the power of Pitbull. It is made from lightweight, heavy-duty Nylon. The buckle is made from Stainless steel which doesn't rust.
There are some amazing reviews on Amazon on the sturdiness of this collar after some rough and tough use.
| Pros | Cons |
| --- | --- |
| Strong build quality. Made for tough use. | Nylon may be allergic to few dogs. |
| Available in multiple thickness and different sizes | |
| Rust free stainless steel buckle | |
| Multiple color options to choose from | |
Elite Spanker Tactical Dog Adjustable Collar – Nylon – Heavy Duty Metal Buckle with Handle
This collar is made up of high-quality nylon and is strong enough to be durable for a Pitbull. It also has soft padding material on the inside so it is not rough on the skin of the dog.
It has a quick-release metal buckle which is heavy duty and easy to take on and off. 
A unique feature of these Pitbull collars is the handle with which you can control your dog. It might come quite handy to take your dog to the leash.
| Pros | Cons |
| --- | --- |
| Made up of heavy-duty nylon which can withstand Pitbull strength | Made up of nylon which some dog may be sensitive to |
| Unique design has a handle to grab the dog | Some owners have reported issues after washing |
| Magic sticker on the back of the collar to attach name ID tag patch | |
Bestia Stud Genuine Leather Big Dogs Collar – a badass choice
It is an amazing and gorgeous dog collar made up of genuine leather. It also has a very soft leather lining inside so it is comfortable for your pitbull.
"Blunted tips" on the spikes look great and at the same time are safe so that his neck doesn't harm you.
A unique feature of these Pitbull collars is that it is handmade to ensure the highest quality. This collar is widest in this list with 2.5 inches.
| Pros | Cons |
| --- | --- |
| Amazing bully look | Some owners may find the width of collar to be a bit more |
| Strong collar | |
| made from Genuine Leather | |
Black Rhino Comfort Collar with Neoprene Padding – Heavy Duty, Adjustable, Reflective and Weatherproof
So you have a pit who loves to be in water, this collar is great for you.
While Black Rhino has not specified the type of material used, we suspect it could be Nylon with Neoprene padding on the inside. They are tough reflective collars for the additional safety of dogs.
A unique feature of this collar is Neoprene padding. Neoprene is a type of rubber that is soft and comfortable and is usually used as padding for items.
These Pitbull collars withstand being in the water and can be easily dried. They remain odorless after being wet.
| Pros | Cons |
| --- | --- |
| A tough collar to match Pit's strength | The logo of the company "Black Rhino" is so big that some may think it to be the dog's name. |
| Can withstand water and remain odorless | The Neoprene padding is not on the complete collar that leaves some portion which could be irritating to the dog |
| Reflective for additional safety | |
Bestia Aztec Genuine Leather metal Studded 2.5 inch Wide. Handmade. Soft Padded with Foam and Leather 
These are premium pitbull collars handmade from genuine leather. It is tough and is 2.5 inches wide and 3.6 mm thick.
The decoration consists of old silver plated big rivets and smaller old brass pyramid rivets. The build quality is great and it looks luxurious.
There is soft padding on the inside made from pig leather. This will keep the dog comfortable.
| Pros | Cons |
| --- | --- |
| Genuine double layered leather | Expensive |
| Highly durable | |
| Luxurious design | |
| Handmade high quality | |
OneTigris Military Adjustable Dog Collar with Metal D Ring & Buckle
This collar is made up of thick nylon with an inner padding that would make it comfortable to wear by your pitbull.
These are strong Pitbull collars that are lightweight and have a design that will find favor from those who admire military looks.
| Pros | Cons |
| --- | --- |
| Double prong closure for extra safety | Comes only in two sizes (M & L) |
| Light weight, Comfortable and Durable | Some owners reported snapping of the D ring |
| Five adjustable points | |
Bestia Genuine Leather Personalized Collar – 2.5 inch Wide. Soft Padded. Durable and Comfortable
Looking for customizable pitbull collars that can withstand its strength, Bestia Genuine Leather Personalized will be the right choice.
This is a two-layered collar. The base layer is 4 mm thick made up of buffalo leather that gives cushion and comfort to the dog.
The upper layer is metallic with 0.5 inches long screw spikes over a stainless steel plate with your custom writing on it.
This 2.5 inch wide collar is handmade and personalized for your pitbull.
| Pros | Cons |
| --- | --- |
| Personalized collar | Expensive |
| Strong to withstand pitbull strength | |
| Comfortable with inner genuine leather padding | |
| Premium looks | |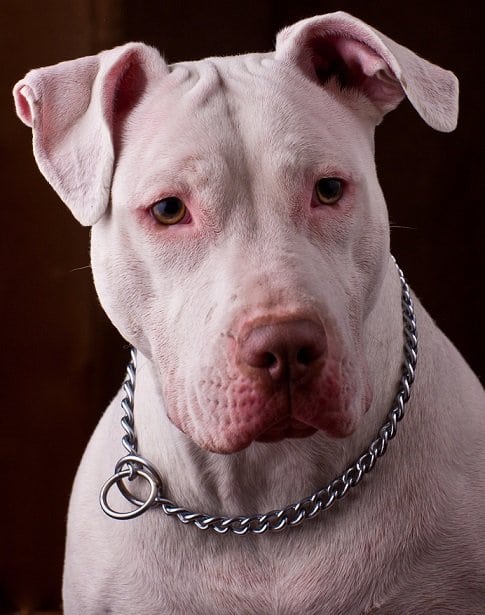 Things to keep in mind
So how do you choose the best collar for your Pitbull. We suggest considering below factors:
Strength to withstand Pitbull
Pitbull is known for their strength and he needs a collar that is strong and rugged. Choose a collar made up of thick leather or heavy-duty nylon with metal buckles which should be strong as well.
Size
The best way to check if the collar fits well is to check if you can fit in two fingers underneath it. If it is too easy to do it, the collar is loose and if it is too difficult, the collar is too tight.
Puppy care
Puppies grow fast. Get an adjustable collar for them and check every couple of weeks if the collar is too fit. If it does become too fit, change the size of the collar or get a new one.
FAQ
? How to care for a leather collar?
1. Wipe clean the collar with a damp cloth if it gets dirty.

2. Allow the leather collar to dry naturally and keep it away from direct heat.

3. After cleaning, apply leather conditioning or grease.

4. Avoid Pit to go to play in the water along with the collar. Keep the collar away from water as much as possible.

5. In case it does get wet, let it dry naturally and then apply leather conditioning.
?Which is better for Pitbulls – Collar or Dog Harness?
A casual walk with a leash on the collar is OK but in general, Pitbulls are quite strong-willed and they will put pressure on the leash and the collar to let them go. This may harm their windpipe.

We would recommend having a harness for the long term.

For training a Pitbull as well, it is recommended to use a harness. The harness gives better control of your dog and they are quite popular as well.
⚠️Why Are Prong & Choke Collars Not Recommended?
Prong and choke collars should be used only by the specialist. They inflict pain if the dog tries to pull against the leash attached to the collar.

With improper use, they can harm your dog with scars on the neck, spinal cord injuries, dislocated neck bones, or laryngeal paralysis.

These punishment collars were used for training but these methods are now outdated. This can make the dog more fearful or aggressive.

Prongs and chains should only be used by a specialist for training when a dog's life is in danger because of their aggressive behavior. Only in this case, we can see they are useful to help protect everyone.
Final Thoughts
We hope that we were able to give you some insights on how to look for good pitbull collars and you considered some of our recommended ones.
If you have an interesting pitbull story, do share in the comments below.
You might also be interested in below post.
References: