It is not uncommon to see your dog destroying the toy that you just bought. This could be frustrating. The answer lies in Kevlar like toys that are almost indestructible.
Kevlar toys were known for being indestructible but later banned for health-related issues.
Why Kevlar toys are not sold?
Dupont made Kevlar in the 1960s and 1970's. It was first used to make tyres of the car replacing the steel ones.
They became popular soon for many other commercial applications like racing sails and bulletproof vests etc for being lightweight and having very good strength to weight ratio. Kevlar is considered five times stronger than steel.
The indestructible dog toys made from Kevlar soon became popular. Later it was realized that it can lead to difficult situations, as Kevlar can unravel and be consumed by dogs. Kevlar cannot be digested and may prove fatal if consumed.
So let's look at toys not made from Kevlar that are still difficult to damage and hence not risky to your dog.
Factors that you should be aware of while buying indestructible Kevlar like toys
Here are a few factors that you should consider while buying almost indestructible Kevlar like toys.
Age of Your Dog
Young puppies have the drive to chew. They would love chew toys that may help them to ease the discomfort due to teething. These toys may also help in strengthening their teeth.
Old dogs would love to play catch or as a tug toy. They may also try to treat it as prey and try to rip it apart.
Size of Your Dog
It is an obvious one. Do not give large toys suitable for big dogs like Great Dane and Labs to small dogs as they may not be able to play naturally with them and be happy to the same extent as they will with their small toys.
Small dog toys that are suitable for small dogs like Yorkie may become a choking hazard if given to large dogs, so you must be cautious.
What Toy do You and Your Dog Prefer?
You might have to balance this one. Your dog may want a frisbee to catch and you want a toy to play within your home. Frisbee may not be the best choice for you. So have a balance of what is best for both you and your pooch.
There are many types of indestructible toys to choose from:
Chew
Ball or Frisbee to catch
Tug toys
Toys that can be filled with dog treats
This is one ball that the manufacturer Monster K9 claims to be virtually indestructible and backs it up with Lifetime Guarantee (Duration that you feel right) and they promise for refund or a one-time replacement.
Here are a few features of this indestructible ball –
This ball is made from the strongest natural rubber compounds that give it real strength, toughness.
As per Monster9, this has been tested and approved by thousands of large dog breeds like German Shepherds, Pitbulls, Mastiffs, Labs, and many other aggressive chewers. It also has some good reviews on Amazon. Check here.
The size of this ball is 7 cm in diameter that makes it easy to throw and suitable for medium or large-sized dogs.
This ball is made from natural rubber which is 100% safe and there are no sharp edges or materials that splinter keeping in mind the safety of the dogs.
This is one of the most recommended chew toys for the large breeds of dogs like Pits, Labs, etc.
It is made up of "Pro 50" Rubber of Goughnuts designed for extra durability and hardness. This black rubber is carbon-reinforced for durability and is suitable for dogs who are excessive chewers.
Here are few of its features
It comes in two sizes. The large size is designed for extreme chewers for 60-120lbs. XL (Buster size) is good for dogs who are more than 100 pounds in weight.
If the dog chews some bit and any red color is seen, this will indicate that the toy is damaged and should be replaced. 
It is also used by K9 UNITS to train their dogs quickly and safely.
This toy is made in the USA and has a lifetime guarantee.
Couple of factors that you should be aware of
Replacement cost is $7.20 apart from cost of shipping to them. This may be frustrating and some may instead buy a new one instead.
This does not float so not a toy to be used in water.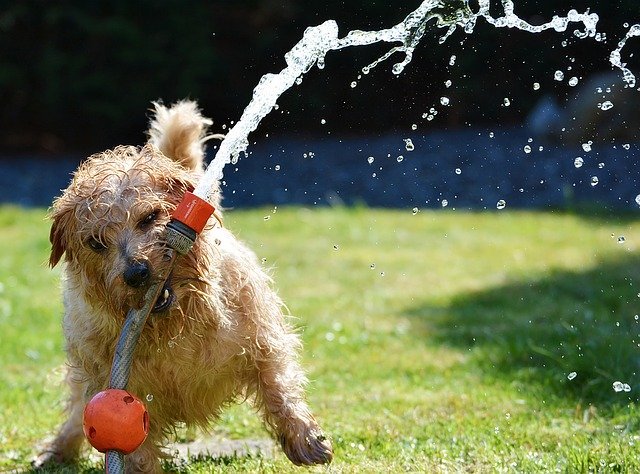 The KONG Extreme dog toy is made from durable natural rubber. Though nothing is indestructible, this toy is quite durable and gives a lot of value to the dollars spent.
It is made from natural rubber so it can be used as a chew toy.
This may not look attractive to you but is great for dogs with its multi purpose use.
Its shape causes an erratic bounce and this toy serves as a good fetch toy.
This can also be used as a stuffed toy. In addition, you can freeze the stuffed toy for a longer-lasting challenge.
It comes in multiple sizes from S to XXL. Made in the USA, the Kong extreme toy is dishwasher safe so don't worry about washing it before reuse.
Be cautious to choose the right size and if confused between two sizes, choose the higher size.
Looking for a toy that looks natural and has some flavor to attract the dog, the chew toy from Benebone maybe your best option!
Below are some if its features:
The Bacon or maple stick flavor attracts the dog to chew and the nylon made stick is durable to withstand aggressive chewing for a few weeks.
The toy comes in three sizes S, M, and L so you can find a size suitable for you.
The unique design of the stick is good for the dog to hold and chew.
You can choose between two natural flavors – Bacon or Maplewood.
This toy is made in the USA and not from China.
Looking for a fetch ball for dog that you can also take in water, look at this Chuckit Ultra ball.
This is made from natural rubber that bounces high which becomes exciting for the dog.
Let us give you some of the features that this ball offers.
This is made from extra-thick rubber so it is more durable than the normal balls.
The ball bounces high making it exciting for the pooch.
This ball floats in water and so it is a good choice for the water games as well.
They are easy to clean of slobber or dirt.
The color combination of blue and orange is quite attractive to the dogs.
It comes in 5 sizes so you may find one suitable for your dog size as well.
If you are a fan of Chuckit ball launcher, this ball is compatible with it.
Do note it is not as tough (kevlar like toys) as other choices above but gives good value to the dollars spent.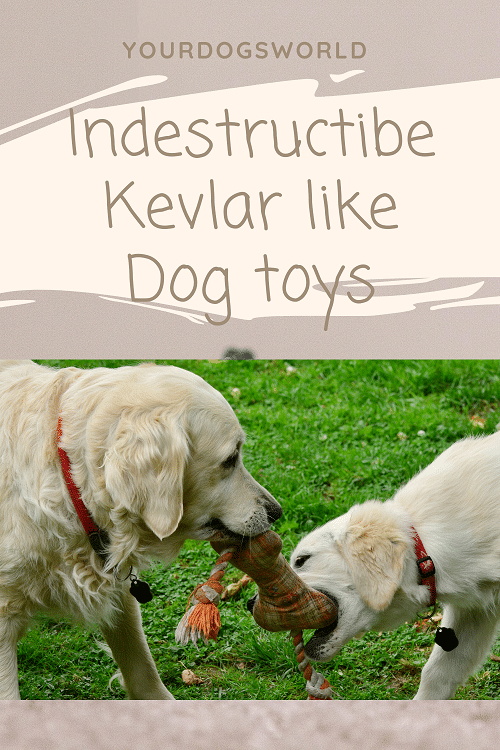 Hope you have found some good options above in your search for Indestructible kevlar like toys that your pooch can play for some time before you get frustrated with another damaged toy.
Do let us know in comments section below which one of the above you liked.
References