Looking for the best brush for goldendoodle dog.
Goldendoodle is a very popular designer breed. They are a cross between Poodle and Golden retriever. They have a straight, wavy, or curly coat of about two to three inches with longer hairs on the tail, body, ears, legs, and shorter hairs on head and muzzle.
If the coat of Goldendoodle is straight or wavy like a retriever, it requires slightly less maintenance, but he may shed more. And if Goldendoodle has a curly coat like a Poodle, he will shed lesser but would require slightly more maintenance.
Brushing your Goldendoodle coat is an important part of Goldendoodle maintenance which helps in
Eliminating tangles and mats
Keeps his coat shiny and beautiful
Massages and lubricates his skin by activating natural oils
Catches any dead or loosened hairs so they don't spread on clothing and furniture.
Some dog owners trim the coat to maintain them easily but typically Goldendoodle has special needs for his coat maintenance. And it is important to check and find the best brush for Goldendoodle.
Best Brush for goldendoodle dogs – Our 2020 picks
Hertzko Self Cleaning Slicker Brush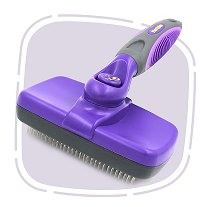 Hertzko Self Cleaning Slicker Brush is our recommended brush for Goldendoodle. This brush is the best seller for both dogs and cats brushes at Amazon.com. It has also got very good feedback from most of its users.
This brush is good for both wiry and curly coat. It makes removing the knots and grooming the hair coat of Goldendoodle quite easy. The fine bristles can go deep and groom the inner coat without scratching the Goldendoodle.
The bristles are assembled out of nice bent wires which helps in removing mats from the inner coat without scratching.
The unique feature of this slicker brush is Self Cleaning. If you are the one who can get stressed out cleaning the dog fur out of the brush after the grooming session, this is the right brush for you.
After brushing, you just need to press the button and bristles retract leaving behind all the fur which you can throw away easily.
For brushing, you don't need to keep pressing the button. Just press the button once and the bristles will be locked so you can easily focus on brushing.
| Pros | Cons |
| --- | --- |
| Easily removes mats and tangles | This brush may be difficult to use on a puppy |
| Long bristles penetrate deep without scratching | |
| Self-cleaning | |
| Anti slip grip and easy to hold | |
| Durable product with high-quality materials | |
FURminator Firm Grooming Slicker Brush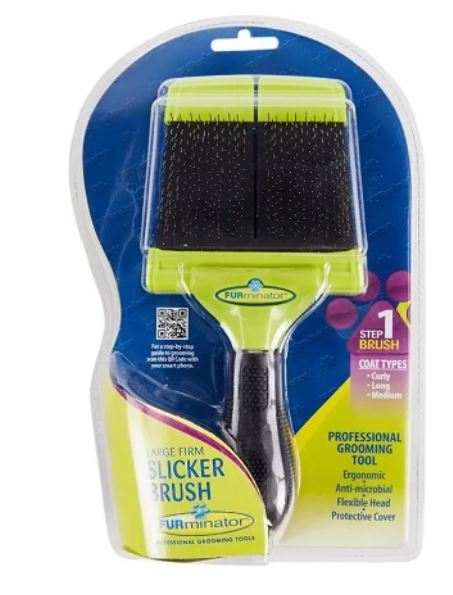 Furminator is a reputed brand liked by many owners. This FURminator Firm Grooming Slicker Brush is two-sided. One side has straight bristles and the other side has bent bristles.
Bent bristles help in breaking up the mats. The straight side is suitable for finishing after you are done with the brushing.
This brush dual flex head design follows the natural contours of your dog's body while keeping the bristles in their ideal working position. It is easy to hold with its ergonomic design.
Before brushing, check for any rashes or bruises on the dog skin which may be hidden by the dog's coat. If you find any, look for the vet's advice before brushing.
| Pros | Cons |
| --- | --- |
| 1. Easily removes mats and tangles from the inner coat | 1. Some owners have reported that handle comes off on a light use |
| 2. Ergonomic design is easy to hold and use | 2. The straight bristles go out of shape quickly |
| 3. Bristles are easy to clean | |
Pro Slicker Brush for Dogs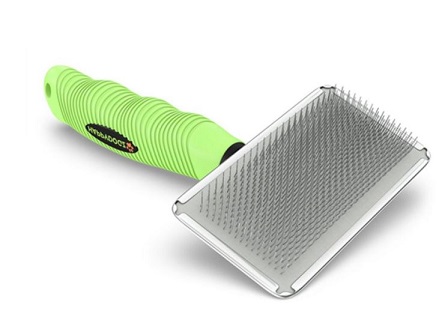 The Pro Slicker Brush from Happydogz is a standard single-sided slicker brush featuring straight bristles which are made from stainless steel.
The pins of this brush have been set on an angle that does a great job of removing undercoat without irritating the skin. It has a decent brush head size so you cover more area while brushing.
The brush design is Ergonomic and the brush has a comfortable handle for a groomer to hold.
This slicker brush does a great job of straightening the hair without hurting the dog's skin. This gives you the confidence to brush your Goldendoodle without worrying about damaging his skin.
| Pros | Cons |
| --- | --- |
| | |
| This is lightweight and easy to clean slicker brush | Some owners have reported that brush has fallen off with light usage |
| The soft handle is easy to hold and brush | |
Pro Quality Self Cleaning Slicker Brush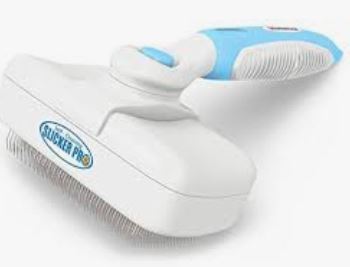 Pro Quality Self Cleaning Slicker Brush from The Pet Portal is a slicker brush that has bristles made of stainless steel. While being sturdy, the bristles are also soft so you can easily remove any tangles in the Goldendoodle coat.
The unique feature that makes it stand apart is its self-cleaning. Pressing a button will lock the bristles and you can focus on brushing and once finished with grooming, pressing the button again will retract the bristles leaving the fur that you can throw away easily.
The brush head is larger when compared to other slicker brushes so you cover more area in a single move.
| Pros | Cons |
| --- | --- |
| Self cleaning | The metal brushes may be uncomfortable for some dogs. |
| It has ergonomic design and is easy to hold | Self-cleaning may become stiff if the brush is not cleaned properly or bristles bend as reported by few users |
| Easily removes mats and tangles | |
Chris Christensen Oval Pin Brush
This is the best pin brush that we recommend for a Goldendoodle. This brush is of high quality and is quite durable. The pins made up of stainless steel are rounded.
This brush can easily get deep and groom both curly and way coated fur of Goldendoodle.
This brush is effective in removing the mats and tangles easily. As the pins are placed at some distance, it is easy to remove the fur.
| Pros | Cons |
| --- | --- |
| 1. High-quality pin brush with stainless steel pins which are rounded at the top | 1. The design is less ergonomic and it is not as easy to hold compared to other brush |
| 2. Light weight | |
| 3. Durable | |
| 4. It can be used on both curly and wavy hairs | |
Safari Coastal Pin & Bristle Combination Brush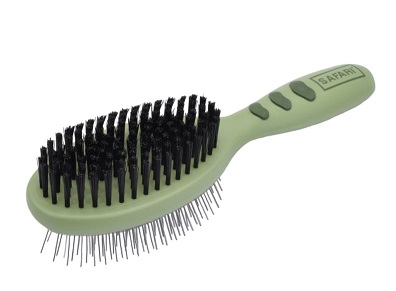 Safari Coastal Pin & Bristle Combination Brush is quite popular among many medium or large size dog owners. This two-sided brush has pins on one side and bristles on the other side.
You can untangle the knots with the pin side and use the bristles for brushing and massaging. The pin side brush has somewhat rounded ends. Though you should be cautious and gentle while using this pin brush.
| Pros | Cons |
| --- | --- |
| It serves the purpose of both Pin and Slicker brush | Pins are slightly rounded and may still scratch the dog if not used gently |
| Easy to clean hairs after brushing | Pins may loosen or fall off after some use |
Andis Pet Steel Comb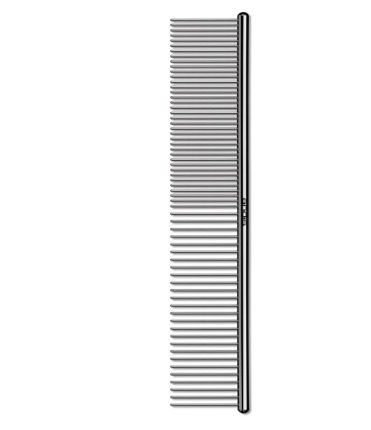 Andis Pet Steel Comb is the best for Goldendoodle. This is the best seller on Amazon.com and has got very good reviews. This is a high-quality comb made of steel. The comb is perfect to finish the grooming. It comes in two sets of teeth – coarse and fine.
What type of coat do Goldendoodle have?
Goldendoodle have three types of coat – Wavy, Curly and Straight.
The wavy coat is also known as a "teddy bear" coat. It is the most common coat and Goldendoodles with this coat shed less but require more maintenance to keep it free from tangling.
The curly coat resembles more like a Poodle's coat. This coat is the second most common type of coat and the Goldendoodle with this type of coat shed the least. They require more maintenance compared to other hair types. 
The straight coat resembles more like a Golden Retriever. It is the least common and relatively easier to maintain.
The type of coat that a Goldendoodle will have would depend on the curly genes he received from his parents.
Typically a Goldendoodle that is curly is +/+ for curl gene, straight fur Goldendoodle is -/- for curl genes and a dog with a wavy or loose curl coat is +/- genes.   
Since a wavy coated Goldendoodle can pass any from their genes (+/-), two wavy Goldendoodles bred together can produce all three coat types – curly, wavy, and straight based on what gene they pass on.
Different types of brush for goldendoodle
Different types of dogs need different types of brushes as a brush for a short coat dog may not be suitable for long coat dog-like Goldendoodle. If your pooch is enjoying when you are brushing then the brush is good.
If he shows signs of discomfort, try choosing a different brush. Let us look at the types of brush for Goldendoodle. You may require one or a combination of them.
Bristle Brush for goldendoodle
If Goldendoodle has a curly coat, a pin brush for grooming is suitable and you may not require a bristle brush. However, Goldendoodles with fleecy or wavy coats may need a bristle brush. You can also use bristle brushes on Goldendoodle puppies.  
Bristle brushes may vary based on the spacing between the bristles and the length of the bristles. Dogs with long coats typically need widely spaced and long bristle brushes whereas dogs with short coats need short and dense bristle brushes.
A dog with coarse hair needs stiffer bristles whereas a dog with soft hair needs softer bristles.
We would recommend you to get a bristle brush that has boar bristles or a mix of boar and nylon bristles. Avoid bristle brush that has only nylon bristles as they tend to break the hair.
Pin Brushes
Pin brushes are also called as Wire pin brushes. They are typically oval shaped which rarely may have rubber-tipped ends. Pin brushes are suitable for Goldendoodle who have curly coats. You only want to groom the hairs and be cautious not to scrape the skin.
Slicker Brush for goldendoodle
Slicker brushes have many fine, tiny wire pins set in a cushion bed. They should be used after the bath and are used to remove any mats or tangles in the inner coat.
You should move the slicker brush in the direction of hair growth such as from head to bottom. Else this will create the tangles instead of removing them.
Like with pin brushes, remember to be soft and do not scrape the skin of your goldendoodle.
Rakes
Rakes are shaped like a shaving razor and typically have one or two rows of tightly-spaced pins. Like a razor, they are intended to be used with minimal pressure. They can penetrate a dog's thick coat and remove tangles and dead undercoat near the dog's skin.
Combs
Combs can be used for finishing. It is recommended to use greyhound combs. They can untangle the knots left in the previous grooming session. Be careful while using the comb as it may scratch the skin of Goldendoodle.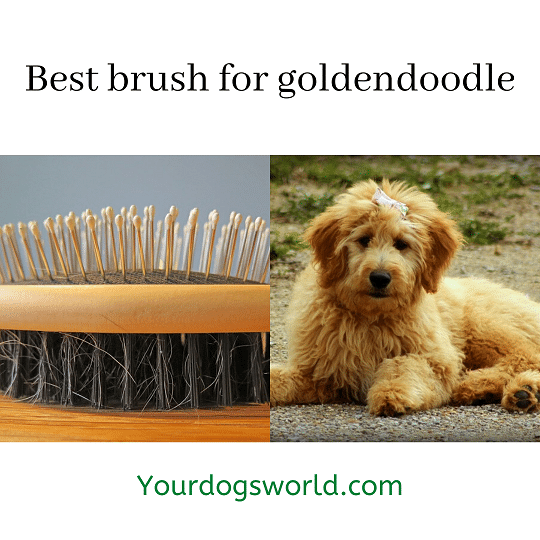 What to look for in a good brush for goldendoodle?
Choosing the brush is a personal choice. Best brush is the one that your goldendoodle enjoys. When you start looking for an ideal brush for your goldendoodle, look at below factors –
You should consider reviews of the brush by other Goldendoodle owners. If most of the other owners are happy with the brush, there is a high chance, you would also like the same.
Check if the new brush is durable and well constructed. In the early days, brushes were made of wood and some still use the same.
Ensure the brush is gentle with rounded tips so you reduce the chance of scratching your Goldendoodle's skin.
The brush should be ergonomic and you should easily be able to hold and brush. The brush head should be large so that in one move, more area is groomed.
How to brush a Goldendoodle?
Tips for brushing a goldendoodle?
Few tips that can help you brush your goldendoodle.
If the dog is matted, you can give him an initial light brush, bathe him and then again brush him. This would help in removing the difficult mats.
Use a slicker brush to comb through the hairs and then use a comb to check if all mats are removed.
If there are mats that you are not able to remove, use some de-tangling spray or corn starch. This will help to remove the mats.
Use the brush along the path in which hairs are growing such as from top to bottom.
Detangling help for Goldendoodles
Here are some good options if you need help with the hair mats.
Argo 100% Pure Corn Starch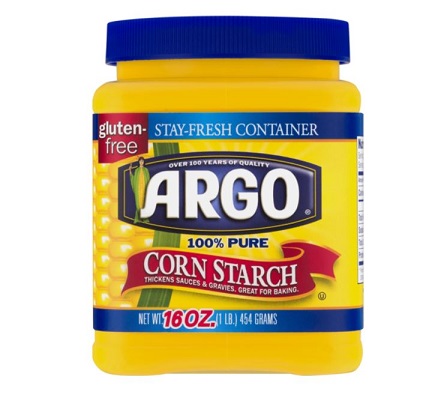 If you're dealing with a difficult knot, apply cornstarch in and around the area. The ingredient helps to lubricate the fibers of the Goldendoodle hairs, making it easier for you to untie it. This is a great natural way of removing difficult tangles.
Cowboy Magic Detangler and Shine
Cowboy Magic detangler & shine moisturize and strengthen your dog's hair, neutralizing static electricity resulting in a high shine after brushing.
This is recommended by many Goldendoodle owners for removing the mats. This also helps in a shiny coat that looks more healthy and smooth.
BioSilk Therapy Detangling
This spray helps to untangle the difficult knots and also helps to get the shine on the Goldendoodle coat. You should be careful with the eyes when spraying.
Below are its features.
Safe to use with topical flea and tick treatments
pH balanced for pets
Sulfate & Paraben-free
How to prevent Goldendoodle hair from matting?
Matting can be painful for the dog as the matted hairs start to pull the skin and may cause sores. Let us look at the steps that you should take to prevent hair matting.
Brush your dog's coat at least once a week. Give him a bath whenever his coat is dirty or smelly but not too often as this may lead to dry skin and cause skin ailments.
Brush the whole body including the places like behind the ears, under the armpits or on the face.
Remove any small knots with the help of brushing or detangling spray. If some are quite stubborn, then it is best to trim the hairs.
Final Thoughts
Goldendoodles are a popular designer crossbreed of Poodle and golden retriever. They are affectionate and gentle dogs that do not shed much. Goldendoodle requires maintenance to maintain their hair as their hairs are prone to knots.
It is ideal to brush them daily or at least twice a week. Choose the brush as per the knowledge you gained above and the comfort of your pooch.
FAQs
How often to brush your Goldendoodle?
It is ideal to brush Goldendoodle daily but you should at least brush him twice a week to keep the fur clean and prevent any difficult knots.
What kind of brush is good for goldendoodle?
Slicker brushes work best for a wavy, curly coat of Goldendoodle. You may want to use other brush as well for complete grooming.
What is the best brush for goldendoodle?
The best-recommended brush for Goldendoodle is Hertzko Self Cleaning Slicker Brush. It is a self-cleaning brush with great reviews from most of the owners.
References